How to fund your betting account using Quickteller
Depositing money into your betting account via Quickteller is very easy!
The first thing you will need is a Quickteller account. (Having a Quickteller account is not strictly necessary, but we do recommend it!)
To create a Quickteller account, go to Quickteller.com or download the Quickteller app from the Google Play Store or App Store.

Deposit on Quickteller
Now that you have a Quickteller account, it's time to deposit some money on it so you can use it to transfer to your favorite betting site.
Here is how to deposit money (or eCash) to your Quickteller account:
From the Quickteller app, click "Receive Money"
Select eCash
Enter the amount of money you want to deposit and click "Continue"
Enter your bank card details (card number, expiry date, CVV, and PIN)
Click "Pay" to complete the transaction.
Once your eCash is funded, you can use the wallet to make any other online payment, including depositing money into your betting account.

Deposit at a Quickteller Paypoint
Another option is to fund your account via any of the Quickteller paypoints located in different parts of the country.
This is particularly useful when you are having trouble with your internet connection or bank network.
Walk up to the outlet, give your details and the cash you want to deposit to the Quickteller agent, who will complete the transaction for you.
You do not have to register on the Quickteller platform to fund your betting account via the gateway. However, if you wish to use the e-wallet function, you must sign up on Quickteller and activate your eCash wallet.
Bet9ja: Deposit swiftly using Quickteller
100% Up To ₦100,000
Bet9ja is one of the biggest betting sites in Nigeria, renowned for its large sportsbook, diverse betting options, and overall quality service. The site is loaded with numerous betting features, including live betting and cash out.
Being a Nigerian bookmaker, Bet9ja allows us to fund our betting accounts in Naira, and offers a plethora of deposit methods, one of which is the Quickteller option.
One great reason to join bet9ja is the welcome bonus, which doubles your first deposit, up to a maximum of N100,000!
How to fund your bet9ja account with Quickteller
To deposit money into your bet9ja account via quickteller, go to the deposit page of the bookmaker and select "Quickteller Online Instant Deposit". You will find a link that takes you directly to the bet9ja payment page on the quickteller website.
When you reach the quickteller website:
Enter your bet9ja user ID and the amount of money you wish to deposit.
Choose whether you want to use your bank card or your eCash wallet
Fill in your card details
Click pay to complete your transaction
Your bet9ja account will be credited instantly.
Please note that funding your bet9ja account attracts a fixed service charge of N25, plus an additional charge of 1.25% of your deposit amount, up to a maximum of N50.
---
What makes Quickteller a great deposit method?
Easy-to-use platform
The quickteller payment platform is very user-friendly and easily navigable. Whether you are browsing on the web or using the quickteller app, all the options are well-defined, making the payments very simple and straightforward.
Instant payment
As long as you have a good internet network, quickteller is one of the fastest deposit methods available to Nigerian bettors. Once you fill up the required details, including the amount of money you want to deposit, your betting account will be credited immediately.
No need for bank cards and bank accounts
A lot of quickteller transactions are done via bank cards, but this payment gateway also allows users to do their business without the need for a bank account or bank card. This is possible via the eCash function. ECash is an eWallet from which you can pay bills and carry out other transactions. We will discuss more about eCash later in this article.
Hence, when you fund your betting account via Quickteller, you have the option of using your bank account or your eCash wallet. The eCash function becomes particularly useful when your bank cards or bank networks are acting up.
No minimum deposits
Unlike some other payment methods that place a minimum value on the amount of money you can deposit into your betting account, quickteller has no minimum deposit. This deposit method allows you to fund your account with any amount, no matter how little. So, whether you want to top up your account with N10, or you want to load it with N10,000, you can do it all on Quickteller.
Deposit on Betway with Quickteller
Free Bet Up To ₦100,000
Betway is one of the few foreign betting sites that allow Nigerian bettors to fund their betting accounts via Quickteller. This is just another one of the many ways that this great European bookie appeals to Nigerians.
It has a website tailor made for Nigerians, accepts our currency and provides several easy deposit methods. One of the great features of Betway is its simplicity and ease of use, which makes the site perfect for beginners. The sportsbook is excellent, so are the betting options, while the customer service is prompt.
New customers on Betway are treated to a nice welcome bonus worth 50% of first deposits as free bets.
How to fund your Betway account with Quickteller
Unlike Bet9ja, the betway site does not have a direct link to Quickteller so you will have to go either via the app or via the Quickteller website.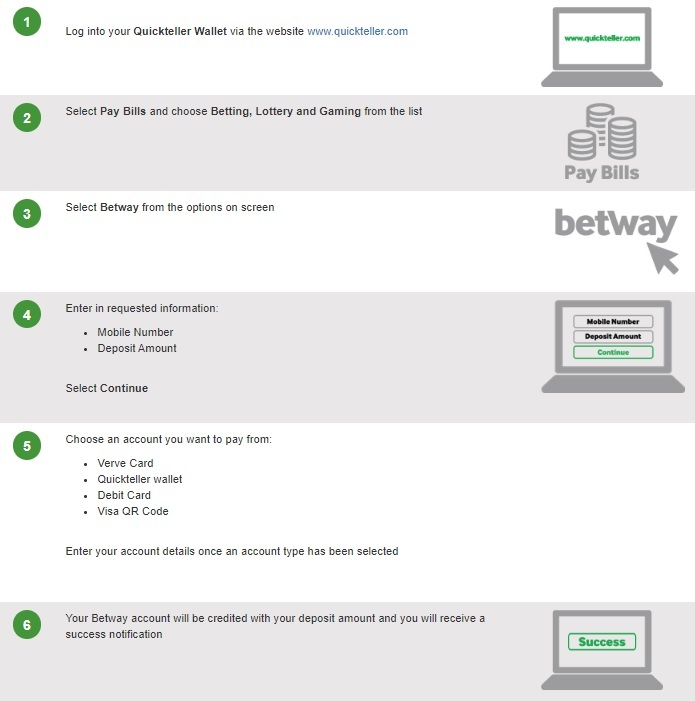 Your Betway account will be credited instantly.
Depositing money into your Betway account via Quickteller attracts a service fee of N100.
---
Deposit money via Quickteller and start betting
Now that you know how to use Quickteller, it's time to make your first deposit so you can start betting online.
Go ahead and sign up with any of the betting sites that accept Quickteller, deposit some money into your account, claim your welcome bonus, and start betting today!